Vegan dairy-free cauliflower cheese soup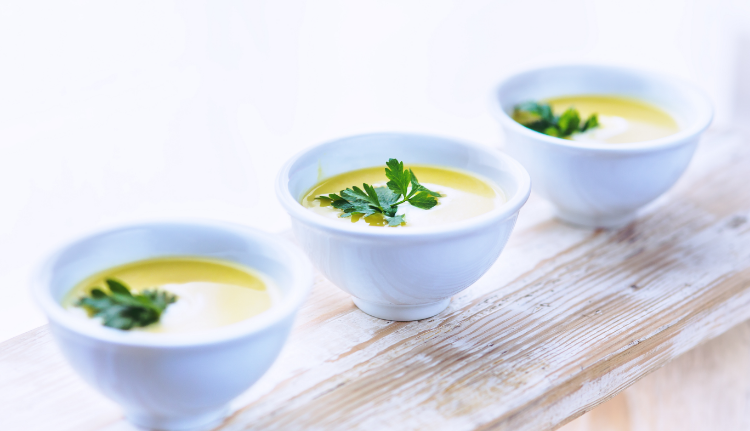 If you love cauliflower cheese as much as I do, this delicious, healthy soup will ticks all your boxes
Because of its high water content, cauliflower makes for a very smooth pureed soup, and has a mellow taste that works well as a base for layering up additional flavours. In this case, the cheesiness comes from one of my favourite kitchen staples: Nutritional Yeast Flakes.
Nutritional credentials
As a member of the cancer-fighting cruciferous vegetable family, cauliflower contains an impressive amount of health-promoting vitamins, minerals, antioxidants and other phytochemicals. Nutritional Yeast flakes are a vegan-friendly source of complete protein, B vitamins and trace minerals. I use this one as it has been fortified with B12.
Preparation time: 30 mins
Serves: 2 (I usually make double and keep a supply in the freezer) 
Ingredients
1 tbsp ghee
1 medium onion, finely diced
¼ tsp sea salt (plus extra for seasoning)
2 garlic cloves, crushed
500ml vegetable stock
400g cauliflower, chopped into florets
1½ tbsp nutritional yeast
1 tsp lemon juice
100ml almond milk
2 tbsp olive oil (to garnish) 
1 tbsp parsley (to garnish) 
Method
Heat the ghee in a large frying pan.

Add the diced onion and ¼ tsp sea salt, sauté until the onions have softened

Add the garlic and cook for a further 4 minutes

Add the vegetable stock and bring to the boil

Now add the cauliflower florets and simmer until al dente (approx 4 minutes)

Put the contents of the frying pan into a blender along with the almond milk until smooth

Add the nutritional yeast and lemon juice and blend again for 15 seconds

Check the flavour for seasoning, add more sea salt if needed (blend again 10 seconds)

Once ready to serve drizzle 1 tablespoon of olive oil into each bowl and garnish with parsley
Adapted from a recipe by Sarah Britton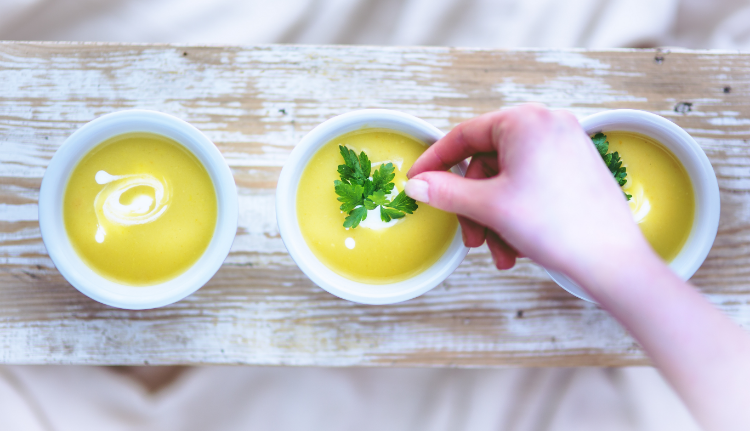 Tip
If you are not eating it all right away, portion the soup into glass jars to cool and then place the jars in the fridge (where it will keep for four days) or the freezer (three months). Make sure you only fill each jar three quarters full if you're putting them in the freezer!
Leave me a comment (I read every single one!) 
This blog provides general information about health and health-related subjects and the content and links are not intended to be used as medical advice. If you have a medical concern, please do not delay in consulting with a healthcare professional.